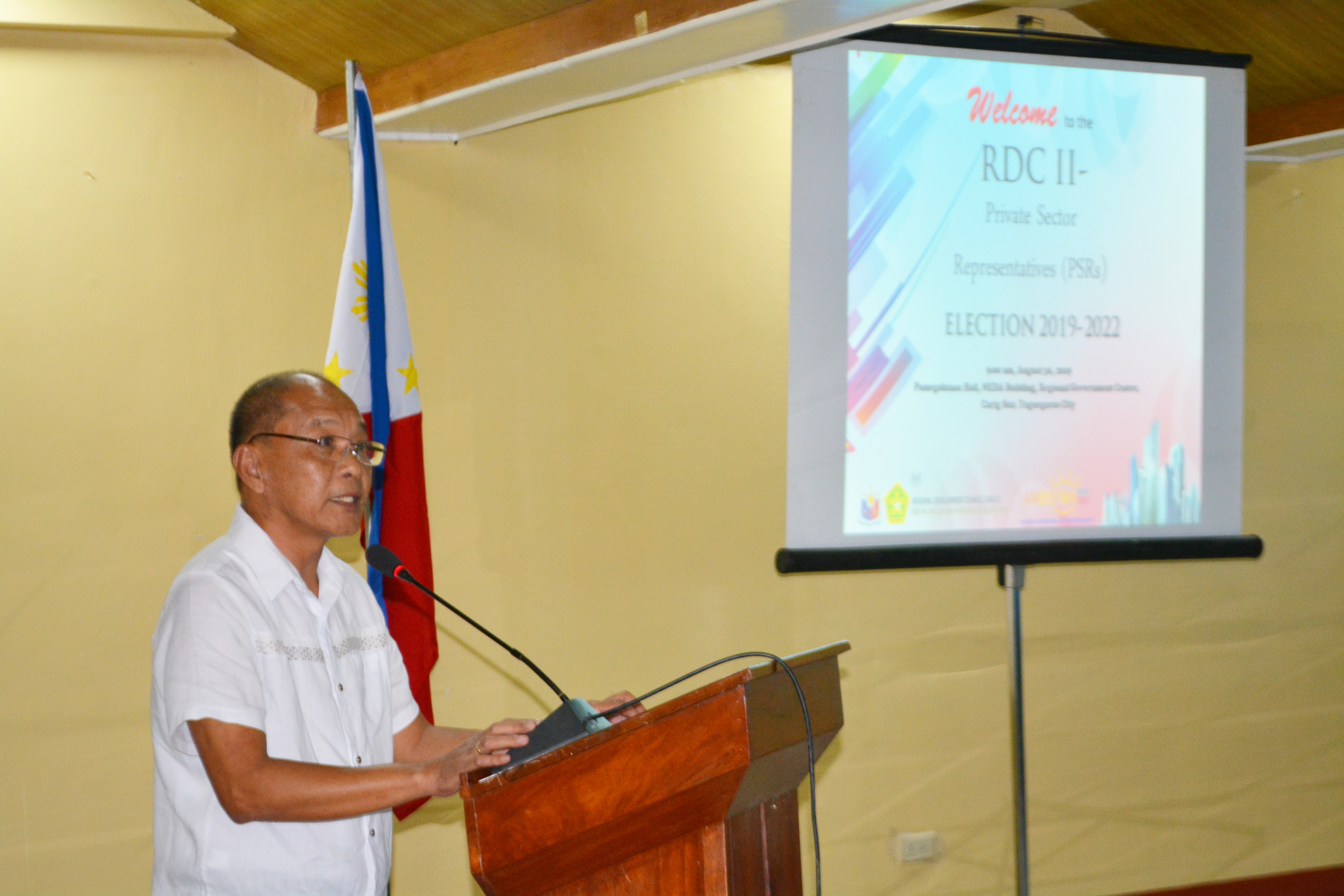 Eight prominent individuals from the private sector were elected as sector representatives to the Regional Development Council 2 during the Private Sector Representatives (PSRs) Election on August 30 at the NEDA2 Building, RGC, Carig Sur, Tuguegarao City.
The elected PSRs for the term 2019-2022 are: Mr. Protacio D. Laguinday and Rev. Ferdinand J. Valdez for the Agriculture and Fisheries Sector; Mr. Cloyd C. Velasco and Atty. Robin James A. Gunnacao for the Trade, Industry and Services; Engr. Gilbert E. Acdal for the Environment and Natural Resources; Engr. Bonifacio B. Carag for the Social Welfare and Marginalized Sector; Mr. Christian R. Guzman for the Health, Education, and Manpower Development; and Ms. Blessida G. Diwa for the Tourism Sector.
Also elected as PSRs to the Regional Project Monitoring Committee (RPMC) of the RDC2 are: Mr. Charles T. Lim And Dr. Antonio T. Parong, Jr.
Meanwhile, the PSRs for the Labor and Indigenous Peoples and Cultural Communities were earlier endorsed by the Department of Labor and Employment and National Commission on Indigenous Peoples from among their civil society organizations. The four geographic representatives will be selected by the Provincial Development Council of the provinces at a later date considering the timelines on the accreditation of LGUs per DILG Memorandum Circular No. 2019-72.
The elected PSRs together with the PSR for Labor and Indigenous Peoples and Cultural Communities will be confirmed by the RDC during the third quarter full Council meeting within the last week of September. During this meeting, the Council shall also select its nominees for the RDC2 Chair and Co-Chair for appointment by the President.# NEDA2-DRD