The Cagayan Valley Regional Development Council (RDC2) confirmed three Private Sector Representatives (PSRs) in a virtual oath-taking ceremony led by RDC2 Chairperson and Isabela Governor Rodolfo T. Albano III. The confirmation ceremony was conducted during the 117th RDC2 Full Council meeting held on September 18.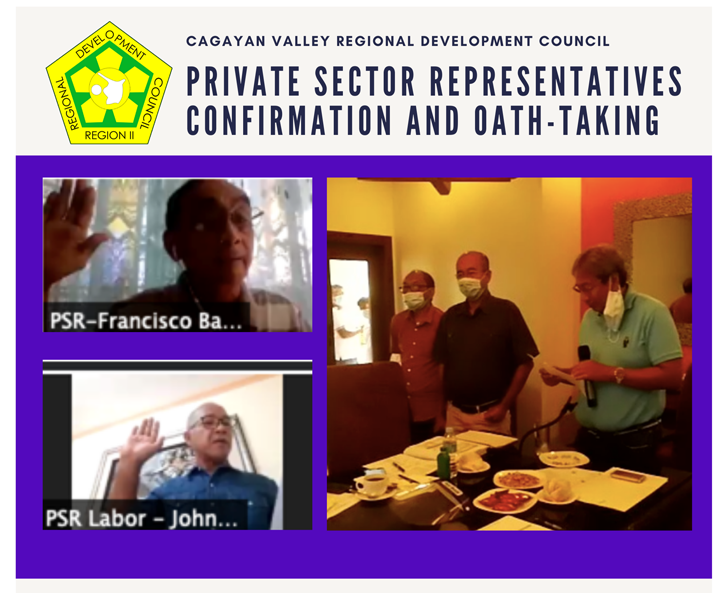 The RDC2 welcomed Mr. Francisco B. Battung, Jr. of the Sierra Madre Outdoor Club (SMOC), Inc. and Ms. Teresita S. Acosta of the Friends of the Environment for Development Sustainability (FRENDS), Inc. as the geographic representatives of Cagayan and Nueva Vizcaya, respectively. Mr. Johnny M. Alvaro, a labor representative of the Regional Tripartite Wages and Productivity Board (RTWPB), joins the other sector representatives as the PSR for the labor sector.
The newly inducted PSRs were endorsed by the Provincial Development Councils (PDCs) of Cagayan and Nueva Vizcaya and the Department of Labor and Employment Region 02 (DOLE-R2) as their geographic and labor sector representatives, respectively. They join the initial nine PSRs who were confirmed during the RDC2 Full Council Meeting last year onSeptember 27, 2019 for the term 2019 – 2022.
Based on the RDC-approved guidelines, there will be 14 PSRs, nine of which represent the priority sectors and five are the geographic representatives. #NEDA2-DRD