The Cagayan Valley Regional Physical Framework Plan (2005–2030) approved by the Regional Development Council in February 2005 identifies the Cagayan River and its tributaries as a Multi-Use Zone. This identification takes into account the many endowments of the riverine zone which can be tapped for many development activities.
While the riverine zone bears much potential as a production resource, there is the need for its protection in order to sustain and conserve the fishery and aquatic resources as well as the biodiversity in the area. Parallel to this is the need to protect the river in order to maximize its use for the present and future generations. This concept stands for a harmonized relationship between the region's desire to facilitate and attain agri-industrial development and the need to enhance the region's environmental integrity. Planning for this multiple land use therefore, would ensure the sustainable development of this resource.
The overall objective of the Cagayan Riverine Zone development Plan is to guide the water and land management along the Cagayan Riverine Zone in order to harmonize its multiple uses. Towards this end, the Plan determines the policies and strategies to address the problems and issues related to the quality, character and aesthetic value of the Riverine Zone. The study area for the Plan covers the whole stretch of the Cagayan River which emanates from Quirino and Nueva Vizcaya and exits in Cagayan through Aparri. It includes major tributaries such as the Addalam River, Magat River, Ilagan River, Siffu-Mallig River, Dummun River, Pared River, Pinacanauan River and Chico River.
The document covers the assessment of the current utilization of the river, its potentials and problems and provides policy framework for the sustainable development of the riverine zone.
 Download Document: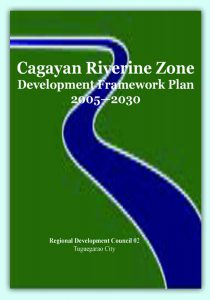 Cagayan Riverine Zone Development Framework Plan 2005-2030