Republic Act 7638 (RA 7638) otherwise known as the Department of Energy Act of 1992, declares the policy of the state "…to ensure a continuous, adequate, and economic supply of energy with the end in view of ultimately achieving self-reliance in the country's energy requirements through the integrated and intensive exploration, production, management, and development of the country's indigenous energy resources, and through the judicious conservation, renewal and efficient utilization of energy to keep pace with the country's growth and economic development and taking into consideration the active participation of the private sector in the various areas of energy resource development; and to rationalize, integrate, and coordinate the various programs of the Government towards self-sufficiency and enhanced productivity in power and energy without sacrificing ecological concerns".
This assertive energy development declaration is supplemented by the Medium Term Philippine Development Plan which seeks energy security by (a) increasing oil and gas exploration, (b) strengthening the National Oil Corporation (PNOC) to spearhead the development of indigenous energy sources and building global partnership and collaborative undertakings, (c) pursuing the development of renewable energy sources such as geothermal, wind, solar, hydropower and biomass including the vigorous utilization of the cleaner development mechanism and the emerging carbon market, (d) expansion in the use of natural gas, and (e) adoption of energy efficiency promotion strategies.
These strategies and sustainable approaches to energy development and management are expected to also reap social and environmental benefits through reduced air and other types of pollution and the concomitant beneficial effect to general health. Their positive effects on climate change are also expected to significantly reduce climate-related natural disasters.
The passage of the Republic ACT 9367 and the 2006 Philippine Biofuels Act which supports the reduced dependence on imported fuels by mandating the use of biofuels and the phasing out of harmful gasoline additives. The law provides that all liquid fuels for motors and engines sold in the Philippines shall contain locally-sourced biofuel components.
Download Document: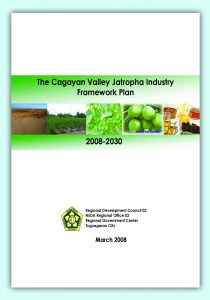 The Cagayan Valley Jatropha Industry Framework Plan 2008-2030