In an online launching ceremony of the Special Economic Zone (SEZ) Institute on September 18 at the Cagayan State University (CSU) Andrews Campus in Tuguegarao City, NEDA2 Regional Director Dionisio C. Ledres, Jr. inducted into office the officials of the Institute.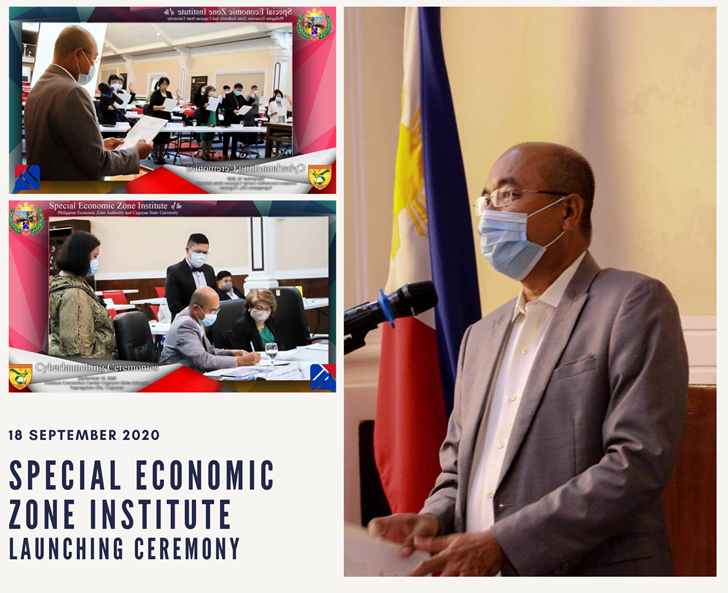 The SEZ Institute is a pioneering and exploratory engagement between the Philippine Economic Zone Authority (PEZA) and CSU. It is designed to develop an industry-responsive research, industry-standard instruction, export-based production, and market-oriented extension capacities for development stakeholders in the region.  Its programs are aimed to transform the Cagayanos into a world-class workforce and develop the North Eastern Luzon into an export-based region. These objectives are consistent with the identified strategies under the "Pagbabago" or "Reducing Inequality" development pillar of the Cagayan Valley Regional Development Plan (CVRDP) 2017-2022.
Present during the event were the members of the House of Representatives of Cagayan and the Hon. Juan Ponce Enrile, who is considered as the founding father of the university. The Hon. Herminio "Harry" L. Roque, Jr. and the PEZA Director General BGen Charito B. Plaza also delivered their message of support to the Institute.
Along with the induction of the members of the council, the attendees witnessed the signing of the Memorandum of Agreement (MOA) between PEZA and CSU, and the Joint Special Orders pertaining to the activation of SEZ Institute, constitution and designation of the officers of the said council.