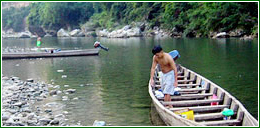 Cagayan is located at the topmost part of the main island of Luzon, Philippines, has a bountiful array of natural resources and a dynamic people in well-organized communities
which can provide a very fertile environment for business growth.A lush valley at the northeast most tip of the Philippines, Cagayan is a stark surprise of verdant Sierra Madre and Cordillera mountains to the longest and widest river in the Philippines, the Cagayan River, from the lovely beaches of coastal towns to luxuriant lands heavy with golden plants to the infinite bosom of the Pacific Ocean.
Cagayan is the Regional Seat of the Cagayan Valley Region. Tuguegarao, the capital town is the seat of commerce and trade and center for learning. The province has the largest marine fishing grounds and 73 percent of the region's potential fishpond area.
Known as the spelunker's, trekker's and gamefisher's paradise rolled into one, Cagayan provides a never-ending adventured with ecotourism in the forefront of its offerring. Both foreign and local tourists continue to explore its caves, engage in gamefishing expeditions, trek its mighty mountains and retreat to its centuries old churches.
»Language And Dialect
Languages in the province are Ibanag, Itawit, Malaweg and Ilocano. Other ethnic groups that migrated to the province speak their own dialects. People in places where literacy is high speak and understand English and Pilipino.
»Major Industries
The province of Cagayan is blessed with rich fertil valleys for agriculture and vast natural resources. The mountain ranges with its extensive forests are rich sources of forest products. On the coastal part of the province are great bodies of water such as the Balintang Channel and the Pacific Ocean which could support a thriving fishing industry.
The province has already earned the distinction of being a major food supplier away to the rest of the country, especially in grains and legumes. With the maximum utilization of this resource, the province could become a major supplier of fruits and vegetables, as well as other commodities particularly those with high linkages to industries like sugar cane, coconut, and tobacco, among other commercial crops.
»Getting There And Away
By Air…
Philippine Airlines
55 minutes by air
Flies Mondays, Wednesdays, and Saturdays