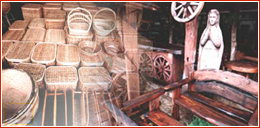 Nueva Vizcaya is located in the heart of Northern Luzon, about 268 kilometers north of Manila and 118 kilometers south of Tuguegarao City. It is geographically located at the
southernmost part of Region 02 and is often referred to as the gateway to vast Cagayan Valley Region. It is bounded on the north by Ifugao, in the northeast by Isabela, east by Quirino, west by Benguet and south by Nueva Ecija.
In view of its location within the watersheds of the Caraballo and Cordillera mountain ranges and its distinction as the major of fruits and vegetables in the region, Nueva Vizcaya is hailed as a "Watershed Haven and Agro-Forestry".
Buses and public utility jeepneys ply the routes around the province. Tricycles are numerous in every town. Van/car rental services are available with rates depending on the type of vehicle used and the distance traveled.
»Geography
Home of the Isinais, Nueva Vizcaya is located in the northcentral part of Luzon in Region 2. It is surrounded by notable mountain ranges such as the Sierra Madre on the east, Caraballo on the south, and Cordillera on the west. The province has several principal rivers: Magat, Matuno, Marang, Sta. Fe, and Sta. Cruz. All these rivers are tributaries of the Magat River which flows into the Cagayan River. The province is bounded on the north and northeast by the province of Ifugao and Isabela, on the east and southeast by Qurino and Aurora, on the south by Nueva Ecija, and on the west by Benguet and Pangasinan.
»Political Subdivision
The province is considered as one congressional district and has 15 municipalities and 274 barangays. Bayombong is the provincial capital while Solano and Kayapa are its commercial and summer capital, respectively.
»Climate
Nueva Vizcaya is relatively dry from November to April and relatively wet during the rest of the year. Maximum temperature ranges from 22-25 degrees Celsius. December and January are the coldest months when temperature falls to about 20 degrees Celsius while the warmest months are April and May. Nueva Vizcaya is often referred to as lowland Baguio because of its pleasant climate.
»Industries
The province has basically an agricultural economy with commerce, trade, and industry contributing to its growth and development. Among other major economic activities are farming and cattle and swine raising. Primary crops are palay and corn. Minor crops are rootcrops, vegetables, and fruits. The province produces quality onions and vegetables often sold in Metro Manila. Oranges and mangoes are now major crops being exported fresh to Asian countries.