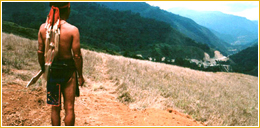 Quirino lies in the southeastern portion of Cagayan Valley . It is situated within the upper portion of the Cagayan River basin and bounded by Isabela on the north, Aurora on the
east and southeast, and Nueva Vizcaya on the west and southwest.The Ilocano dialect is used widely in the lowlands of the province's various municipalities while Ifugao is predominant in the uplands.
In view of its location within the watersheds of the Caraballo and Cordillera mountain ranges and its distinction as the major source of fruits and vegetables in the region, Nueva Vizcaya is hailed as a "Watershed Haven and Agro-Forestry".
Buses and public utility jeepneys ply the routes around the province. Tricycles are numerous in every town. Van/car rental services are available with rates depending on the type of vehicle used and the distance traveled.
»Geography
The Sierra Madre Mountain Range provides a natural barrier on the eastern and southern border of the province and the Mamparang Range on the western part. The province is generally mountainous, with about 80 percent of the total land area covered by mountains and highlands. A part of the province's comparative advantage is its accessibility to the town of Aurora .
»Political Subdivision
Quirino has six municipalities: Cabarroguis, the capital town, Saguday, Diffun, Maddela, Nagtipunan, and Aglipay. The province has one congressional district and 110 barangays.
»Climate
The province has a mean annual temperature of 26.6 degree Celsius. Warmest month is May and the least dry months are March to August while the rest of the year is neither too dry nor too wet. Rainy days occur from September to November.
»Industries
Agriculture is the main industry with rice and corn as major crops. These supply the demand of neighboring provinces and the metropolis. Banana as well as banana chips are major products sold in Metro Manila and Pampanga. Small scale industries like furniture making, basketry, rattan craft, and dried flower production are prevalent.