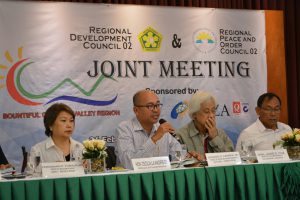 In a move to collaborate efforts to address peace and development matters in the region, the Cagayan Valley Regional Development Council (RDC) and the Regional Peace and Order Council (RPOC) held a joint meeting on February 26, 2019 in Tuguegarao City.
In his opening remarks, RDC2 Chairperson Gov. Junie E. Cua said that more work still needs to be done to develop the region further despite the many accomplishments both Councils have achieved in the last three years.
"Let us take advantage of our strong complementation with our more developed neighbors such as Hong Kong, China, and Japan which have high cost of labor, the best technologies, and sufficient overflowing capital," he quipped.
Also present during the meeting was Cagayan Provincial Governor Manuel N. Mamba, the Chair of the RDC2 Infrastructure Development Committee, who also spoke of the region's high potential to … Read more »